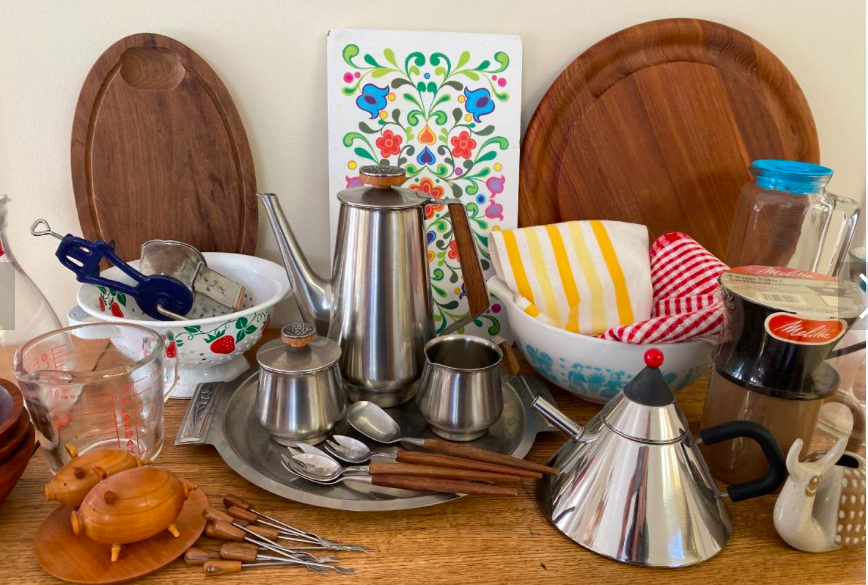 KITCHEN & DINING
Pyrex, Williams-Sonoma, Some Corningware, Vintage Tea Towels and Linens, Vintage Tupperware, FireKing, Jadeite, Le Creuset, KitchenAid Mixer, Pottery Barn, Crate and Barrel, Pier 1, Tiffany & Co, Waterford Crystal, Teak Serving Items, Copper, Cast Iron, Sterling Silver Flatware, Rosenthal China Service, Royal Doulton China Service, Vintage Bar Ware, Bar Carts, Restoration Hardware, Anything New and/or Unopened, Mid Century Modern Anything,
LIVING ROOM & DEN/FAMILY ROOM
Persian/Kilim/Navajo Rugs, Original Art, Collectible Art, Vintage Brass Figurines, Anything Mid Century Modern, Furniture with Raised Peg Legs, Knoll, Eames Chairs, Pottery Barn, Restoration Hardware, Crate and Barrel, Vintage Pendant Lamps/Lanterns, Smart TVs/Flat Screen TVs, Vintage Games, Xbox and other gaming consoles, instruments, Some Electronics, Apple Products, SONOS, Bookcases, Coffee Table Books, Leather Bound Books, Antique/Vintage Books, Complete Series Sets of Books (Harry Potter, Narnia, etc.), Movie Box Sets (Star Wars, Lord of The Rings, etc),
BEDROOM
Bedroom Furniture with a Designer Name, Persian/Kilim/Navajo Rugs, Original Art, Collectible Art, Vintage Linens in God Condition, Designer Linens in Good Condition (Ralph Lauren, Pottery Barn, etc.), Anything Mid Century Modern, Jewelry (Fine Jewelry, Gems, Gold, Sterling Silver, Vintage Costume Jewelry, Cameos, Victorian Jewelry and Accessories), Vintage Silk Scarves with Designer Names, Designer Hand Bags with COA or Proof of Purchase
GARAGE
Tools, Power Tools, Ladders, Lawn Mowers, Snow Blowers, , Tractors, Vehicles with Title, Bikes, Gardening Items, Folding Tables, Work Benches, Tool Chests, Some Equestrian Items
HOLIDAY/CHRISTMAS
Vintage and old German ornaments and decorations are collectible. The old glass Shiny Brite balls, antique postcards featuring Santas wearing green suits and riding unusual things like hot air balloons. The newer ornaments and decor do not sell for very much. Anything Made in China should be donated unless it is new in the box and unusual.
SOME NAME BRANDS THAT SELL
Pottery Barn, Williams-Sonoma, Crate and Barrel, Restoration Hardware, Anthropologie, Pendelton, Ralph Lauren, Le Creuset, KitchenAid, Tiffany & Co., Cartier, Pandora, Eames, Knoll, Lane, Apple, Samsung, Goebel, Hummel, Swarovski, Royal Doulton, Buyers Choice, Rosenthal, DANSK, Hobe, Lalique, Orrefors, Waterford, Hermes, Louis Vuitton, Gucci, Chanel, Christian Dior, Georg Jensen, West Elm, Meissen, Herend, Lladro, Steiff, LL Bean,
NOTE ABOUT COLLECTIONS (depending upon condition and sometimes specific items)
Many collections are valuable. Some of the popular ones are pocket knives, sometimes animal themed collections (cat and dog lovers), Hummels, Lladros, Swarovskis, Josefs Originals, old duck decoys, costume jewelry, antique stoneware jugs, Antique Dolls in good condition, Some Madame Alexander Dolls in excellent condition, Autographed sports memorabilia with authentication, Autographed celebrity items with authentication, Kachina Dolls, Lionel Trains, Antique Toys, Coins, Some Stamps, some live plant collections, vintage Christmas/Halloween/Holiday ornaments and decorations, enamel and cloisonné, Charleston sweet grass baskets, Navajo pottery, Navajo jewelry, Antique Aquatint Lithographs, vintage tins, Dungeons and Dragons miniatures/books, crystals/geodes/fossils/arrowheads, copper, all vintage linens in good condition, mid century modern teak items, Danish silver, Danish kitchenware, German Christmas ornaments,
ITEMS THAT CAN BE DIFFICULT TO SELL
Dining Room Sets ( sometimes try selling chairs separate from table), China Cabinets, Armoirs, Entertainment Centers, Very Large Furniture, Pool Tables, Most Pianos, Couches from the 1980's and 90's, Oak Furniture, Big Office Furniture, Big TVs made before 2018, Older Electronics, Mattresses and Box Springs if they are not new, Victorian Furniture, Most Crystal, most decoratives and items that say Made in China on the label, Encyclopedias, Readers Digest, Most Magazines and Newspapers (JFK articles are flooded in the market), Most Fine China Sets, Collector Plates, Most items from the Bradford Exchange and companies like that, Most Beanie Babies, glassware that is not affiliated with a popular designer, Silver Plate, sometimes Pewter. Anything stained, with holes, with odors, exposed to animals and exposed cigarette smoke cannot be sold.
NOTE ABOUT DECORATIVE ART
Sometimes there will be original paintings, pottery, sculptures and other forms of art in a home. This art may have been collected from small galleries during vacations or from artisan markets and craft fairs. Most of the time this art will have a decorative value verses a collector value. This is because the artist is usually not nationally or globally known. If the artist has a significant following that is regional, then it is best to try and sell the art within that region.
If you have any questions and would like a consult either virtually or in person, then please reach out to Heather Dawson at 843-437-9308.